WHY YOUR DOG NEEDS FRESH FOOD FROM BARKIN' CREEK DOG KITCHEN
Human-Grade Meals Designed for Your Dogs' Palettes
Locally Sourced

We craft our meals by hand daily using chemical-free, locally sourced USDA-quality ingredients that nourish your pup.

Nutrient-rich

Our proprietary blend of nutraceuticals includes Omega-3 and Omega-6 fish oil along with a host of vitamins and minerals.

Totally Transparent

In our open-concept dog kitchen, we invite visitors to observe and even speak with Barkin' Creek chefs to learn about our food.

Conveniently Shipped

You can purchase our meals, snacks, and bark in our online store. Meals are frozen to preserve freshness and shipped straight to you.
WHAT'S COOKIN' AT BARKIN' - OUR HANDMADE MEALS & TREATS
Our hand-crafted meals feature recipes full of the same ingredients you serve your human family – locally sourced USDA-quality meats, fruits, and veggies, plus a hand-compounded blend of supplements. Our delicious baked snacks are crackers and cookies so yummy, you might find yourself sneaking a few bites for yourself. We hand-bake our treats using whole, easy-to-pronounce ingredients. All of our cookies and crackers are baked in-house with 100% real ingredients and are sure to be a hit with your furry friend.
Shipping Details
Our dog food is hand-made and will arrive to your front door frozen. In order to maintain the quality and integrity of our product, shipments will leave our Austin store between Monday & Wednesday. If you are purchasing Frozen Food for shipment, you will be required to purchase a minimum of 4 packs of food to ensure they remain frozen during their transit to you and your pooch. Any dry treats, cookies, or bark can be shipped via USPS by placing a separate order. If you have any questions, call us at 512-982-6700 and speak to our Customer Service Team.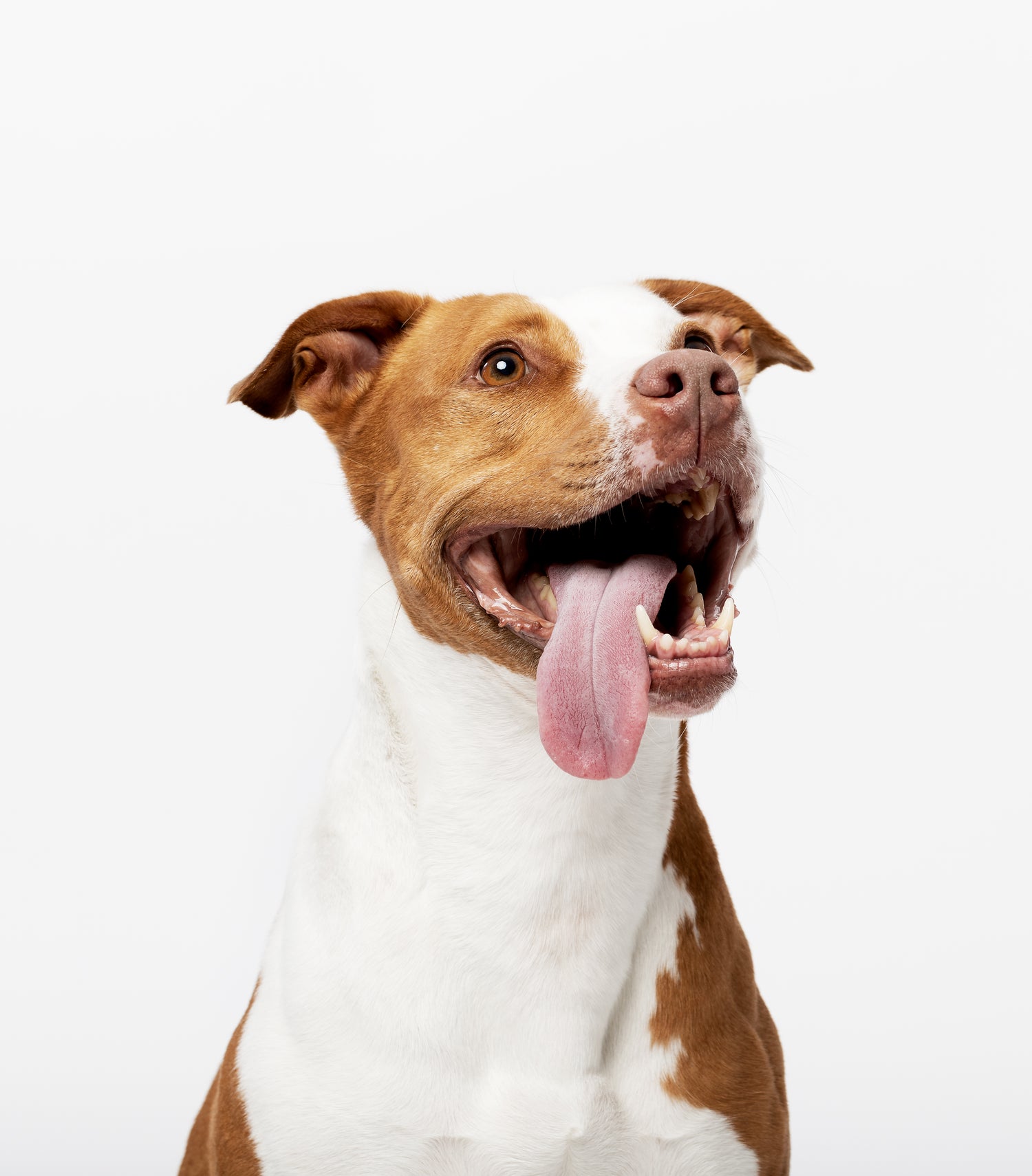 Why Homemade Dog Food?
When our adopted dogs Bea and Jax began suffering from health issues, we found ourselves in need of specialized food. As we searched for dietary solutions, we learned that most dog food is mass-produced and supplemented with excessive amounts of sugar, salt, and animal by-products – in addition to chemicals and toxins designed to increase shelf life. 
Most disturbing of all, we learned that standard store-bought food negatively affects the health and well-being of our furry friends. Poor quality diets lead to malnutrition, allergic reactions, toxicity, obesity, shortened lifespans, and even death.
We knew our dogs deserved better. We ditched the canned and dried food in favor of fresh meals made in our own kitchen. We selected wholesome ingredients and added the right balance of supplements to support our dogs' health. And thus, Barkin' Creek Dog Kitchen was born!
We love making these nutritious meals available to pups beyond our doors. Ready to refine your dog's diet? Check out our meals, snacks, and bark.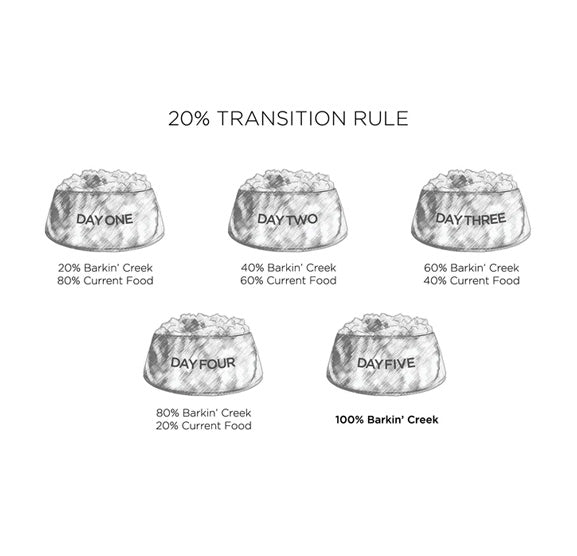 How To Switch Your Pup's Diet: The 20% Transition Rule
If dry food has been your go-to, you'll need to gradually transition your dog to fresh meals to prevent indigestion. We recommend the same approach even when switching between fresh Barkin' Creek meal options.
To ensure a smooth adjustment, use the 20% Transition Rule. Over a period of five days, replace 20% of your dog's meal with Barkin' Creek food, increasing by 20% each day. By the fifth day, your baby will be munching on 100% fresh food. (For dogs with sensitive stomachs, increase the transition period to 7 to ten days).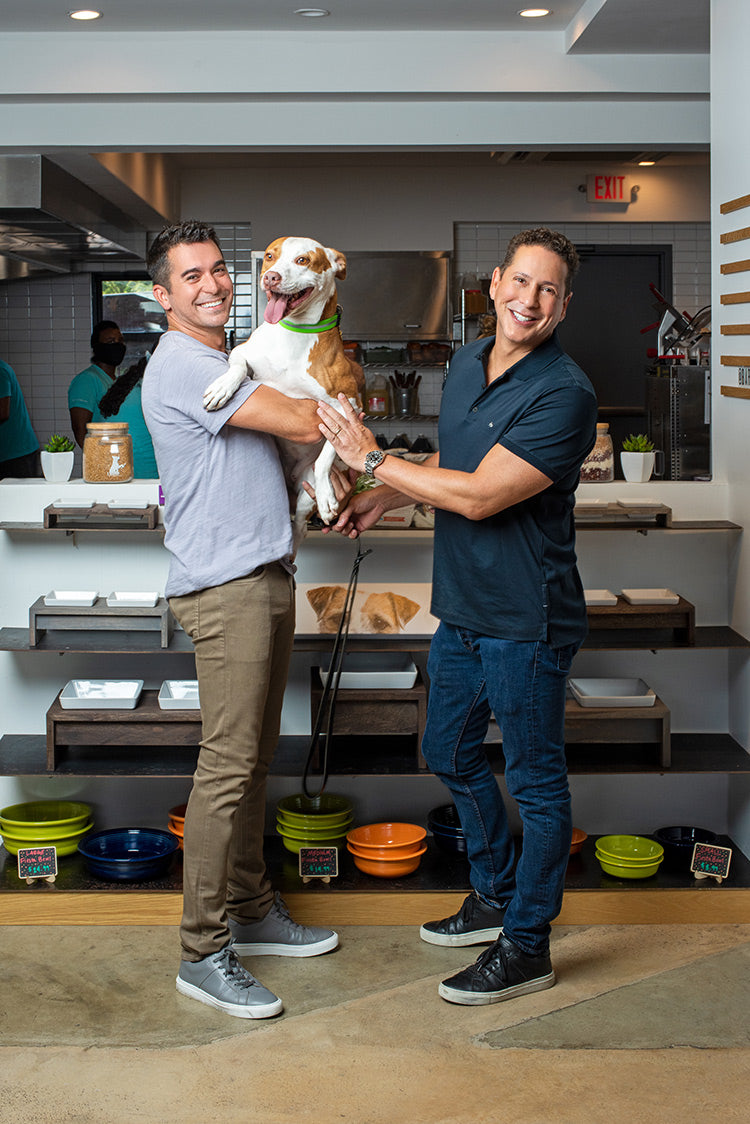 About Barkin' Creek Dog Kitchen
We're a family–owned and operated business that supplies healthy, affordable meals and treats for dogs. We tossed away the canned and dried dog food! Instead, we selected wholesome ingredients from our kitchen and added the right balance of supplements to create nutritious meals for our own dogs… and voilà, Barkin' Creek Dog Kitchen was born! 

We carefully created each recipe using USDA approved meats and vegetables that are locally sourced and made daily by hand. Our customer service–oriented and highly trained staff is knowledgeable about the dietary needs of dogs.